I love Sunday roast. They are fantastic for leftovers in lunch boxes. We had a roast chicken last Sunday with one left over breast, 2 wings, 1 leg plus thigh and bits and pieces. Some of that went into Monday's lunch, which was vegetable cous cous with cherry tomato and coriander garnish in the bottom tier. Top tier was slices of chicken, yellow peppers and another cherry tomato to plug the gap. Exactly the same for Andy and me, although I think I put slightly more cous cous and peppers in his box.
Andy had the leg and wings for lunch at home on Wednesday and I made chicken and veg soup with the carcass on Tuesday. Yum.
Made onigiri for the first time on Tuesday morning and it took me so long! I think I was nervous about how it would turn out and was being very careful. Hopefully it will be much quicker with practice.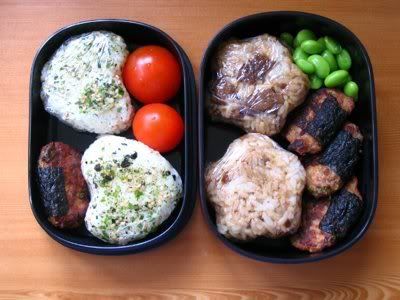 Top tier on the left: heart-shaped onigiri with furikake topping, cherry tomatoes and chicken dumplings with nori wrap.
Bottom tier on the right: Star-shaped onigiri with beef and onion. more chicken dumplings and edamame.
The recipe called for minced chicken but I could only find minced turkey and that seemed to work just as well. I think it's too much onigiri for me but I wanted to make sure Andy had enough for his lunch. I did leave one for a snack later in the afternoon.
Both done and ready to go!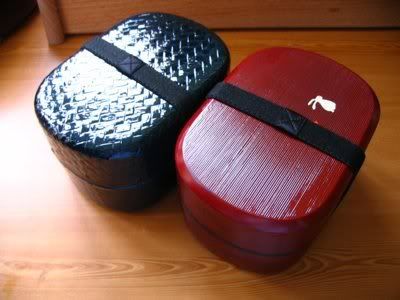 I was looking for a reusable bag to carry my bento (usually used plastic bags that I reuse) when I got an idea and wrapped it up in an old scarf recycled as a furoshiki, which I could just carry by its handles. Ok, so I took out the chopsticks and just put them in my bag after the photo ;p