This was almost a week ago but definitely still worth blogging about. Andy and I visited his parents over the bank holiday weekend and we made a day trip down to London on Saturday because I really wanted to go to Portobello Market and also London's Borough Market, having heard such great things about it as an organic and gourmet food heaven.

Portobello Market was a bit of a disappointment. It was still fun, walking around the stalls with a very-patient Andy (who doesn't enjoy markets nearly as much as I do), enjoying the vibe of Nottinghill and the glorious weather that weekend. I was expecting there to be a lot more stalls out on the street. I think that might have to do with the Nottinghill Carnival starting the next day and many vendors might have just not turned up that Saturday. I might try again another time.

We spotted these two kids sitting in the doorway of a cafe, stuffing their face with chocolate muffins that were about the size of their faces. Their mouths and chins were covered in chocolate. They really made us smile.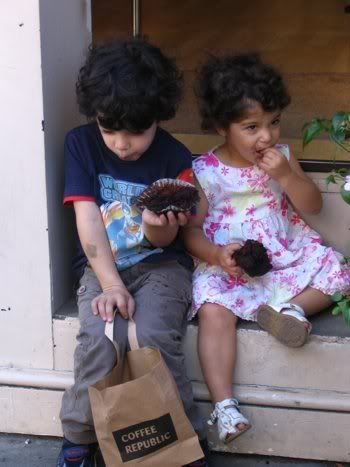 We had a lovely lunch at a restaurant called 'Nonya', which I spotted as we were entering Nottinghill. It was a good find as we ended up having the most delicious Singapore/Malaysian food I've ever had in London. Andy had chicken rice (which got the thumbs up) and I had the most unhealthy, greasy and delicious Penang fried kway teow. Reasonably priced too at just under £8 per plate, especially for London. We stopped ourselves from ordering the otak-otak though because it is most OMGWTF expensive otah I've ever seen - £6.90 for two. No way I could make myself pay S$21 for two pieces of otah, even if they are bigger than the ones from pasar malam. The (Singaporean) couple next to us ordered them though, with Penang Assam Laksa which looked and smelled very good.

After lunch it was onward to the Borough Market. Yes, some of you might have already spotted the terrible error in our plans... Why oh why did we go to the Borough Market after having lunch?? It was the most gorgeous assembly of food stalls with fantastic home-made cheeses, breads, jams, cold meats, oils, and cooked food ranging from Greek to Indian to Spanish. I wanted to die looking and smelling all that food but having no more tummy space to eat. You could pretty much fill your tummy just by grazing on the food samples. Andy certainly tried out the cheeses at various stalls and even I couldn't resist the different oils on offer.

We bought a gorgeous bottle of garlic olive oil (although I preferred the porcini one, the garlic would be more versatile). We couldn't bring ourselves to buy the truffle olive oil which was about twice more expensive and the others were already expensive! Also bought a jar of lemon curd for Andy's parents. I bemoan all the beautiful field and cultivated mushroom varieties that I couldn't buy, not when we won't be home for another 5 days.

The main market building is often used for filming period dramas and movies such as 'Miss Potter'.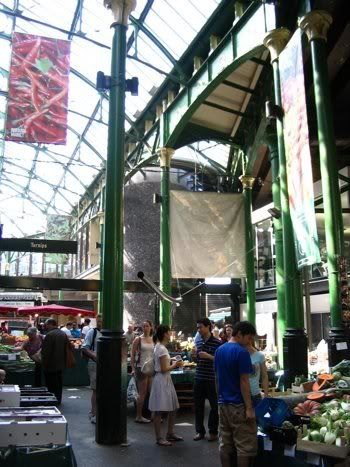 Sights of the London Borough Market: