Wednesday's lunch was chicken thighs teriyaki on a bed of stirfried noodles. Kailan in oyster sauce on the side.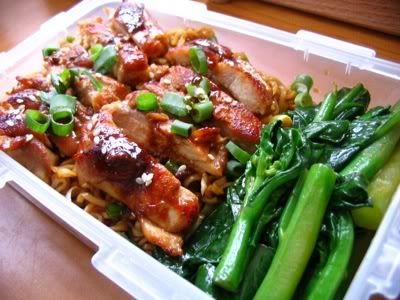 Based on the recipe from Naomi Kijima's "Bento Boxes: Japanese Meals on the Go".
Teriyaki chicken (serves 1)

*1 boneless chicken thigh, skin on (I took the skin off for mine)
1 tbsp mirin
1 tbsp soy sauce
1 tsp sugar
1/2 tsp sake
1. Trim excess fat from thigh. Marinate in the mirin, soy sauce and sugar for 30 minutes or overnight.
2. Pan fry the chicken in a little oil, skin side down. When browned, turn and cook the other side.
3. Add 3 tbsp water to te reserve marinade (whatever's left in the bowl) and pout over chicken. Simmer over low heat till cooked through.
4. Raise heat and reduce the sauce to a glaze to coat the chicken. Remove chicken and slice. Sprinkle with toasted sesame seeds and chopped spring onions.
(*Sainsbury's sell skinless and boneless chicken thighs - that are cheaper than chicken breasts! Don't even have to remove the skin or bones yourself, although have to trim the fat. These crazy ang mohs who pay more for breast than for thigh, complete opposite of Singapore/Malaysia/China :p It was the same when I was in Canada.)

Thursday's lunch was bacon and Brie with salad leaves in a wholemeal bread roll. On the side is some salad and cherry tomato with a small container of dressing (greek yoghurt, extra virgin olive oil and black pepper), and peach slices.
Andy's lunch was the same except he got raspberries and blackberries instead of peaches.
The Laptop Lunches containers are pretty useful for bulky sandwiches and salads, but I still find they contain a little too much food for me sometimes.
Today's lunch was pretty similar to yesterday's. Andy's was just about the same except he got mini mango pudding instead of berries. Mine went into a smaller box today with a container of greek yoghurt and berries drizzled with honey, and two chocolate truffles. I didn't get round to eating the chocolates eventually but I left them in the office for 'chocolate emergencies'.