Well, not galore as such, but certainly more than I've got a week ago. When Andy and I were down in London earlier this week, we went to Oriental City and Japan Centre to scour for some bento goodness. We also went to Chinatown but by then we've gotten pretty much what we wanted and I couldn't buy non-perishables anyway.
Oriental City wasn't as big as I thought it would be, and not as many shops. We found some interesting ones, especially this big store selling homeware. Really lovely Japanese bowls and plates and cutlery etc. Certainly cheaper than say John Lewis but still more expensive than in Singapore. I kept thinking how much I would pay for each at Daiso (S$2)... Andy bought a load of mango pudding at the supermarket and I got some mirin, rice vinegar and hon dashi. Found a shop with a small shelf of bento supplies. There were some bento boxes that I've seen on eBay but there were not the ones that I like so I didn't get any. Two days later when I was at Japan Centre, I was seriously regretting not buying the short chopsticks (that would fit inside lunchboxes) and bento belts then as I never saw them again at Japan Centre or Chinatown. Although I did buy some onigiri moulds and fish containers. Definitely cheaper than eBay. There were some Hello Kitty bento boxes at another shop but err no thanks.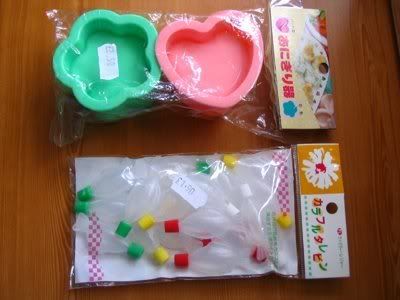 Finally found the boxes that I was looking for at Japan Centre. And only £2.95 each! (Instead of around US$7 with another US$5 shipping = around £6) - which is not that different from the cost of normal lunch boxes. I couldn't resist and bought two: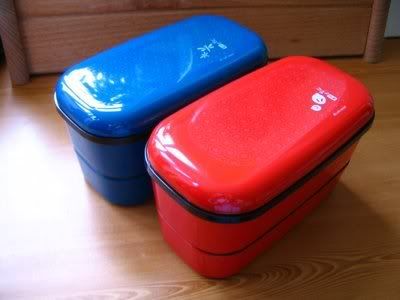 When Andy and I had our supper at Yun's on Thursday, after getting back from London, we couldn't finish the yong tau foo and I asked for it to be packed up. That ended up in my lunch for yesterday. Yum. I just cooked some rice and microwaved edamame beans in the morning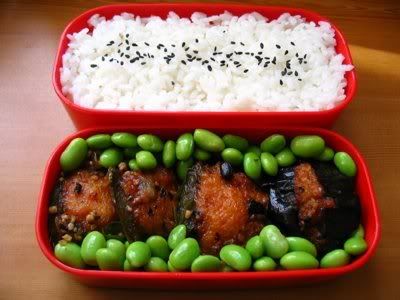 I said I was a little indulgent at Japan Centre because I knew I was going to get two bento boxes in the post soon. That was Andy's birthday present to me. It arrived at my office on Wednesday but I was still in London then. Got them yesterday when I went in. I've never had a package wrapped up so nicely before, with musical notes on the outside and Hello Kitty sticker lol... That's the Japanese for you.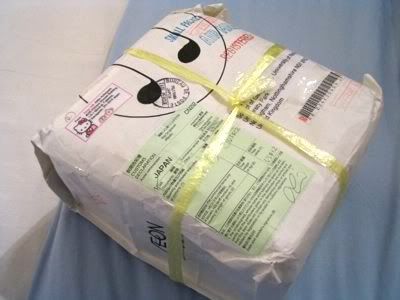 And inside were...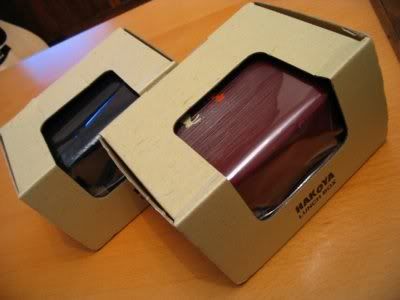 Well, it's my birthday present but when I chose it on eBay I got one for him too. I love the lacquer effect, they look and feel much nicer than the other plastic ones I got from London. But then the price reflects that too... Too bad I couldn't find anything like them here. Or perhaps that's a good thing because if I've seen similar in London I would have gotten all angsty about ordering them from Japan and paying all that money.