Lunch on Tuesday was more leftover sushi with a small container of soy sauce and edamame on the side.
Yesterday's lunch was green leafy salad with smoked salmon and a fan of avocado, topped with some chives. The small blue container nestling in the salad holds olive oil and balsamic vinegar dressing. Yellow peppers and strawberries on the top left, with a small container of cheese and chive dip. Grapes in the other section.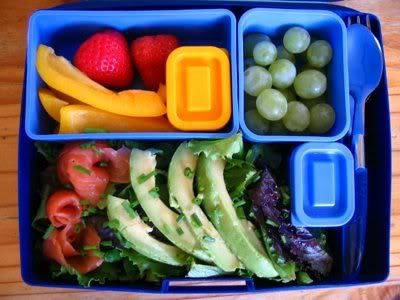 I found the avocado really filling. I felt really full after having only the salad and peppers and still had the fruits left for a mid-afternoon snack.
Today's lunch is German Brunwick ham, Caerphilly cheese and salad leaves in a tortilla wrap. Strips of yellow and red peppers and grapes on the side, with a small container of sour cream and chive dip. Andy's box was the same except he had sour cream and chive. I wanted that dip actually but I gave it to him because I am nice like that :p
Just got this book Bento Boxes from Amazon. Fantastic little book with great ideas. Also bought another Japanese recipe book which is stuffed full of simple, authentic and delicious recipes. I love how you can make almost all the dishes with just mirin, sake and soy sauce. And the books are so slim, a refreshing change from the huge hardback tomes that you usually get from Jamie Oliver, Nigella Lawson, Gordon Ramsay or Rick Stein. Happy cooking days ahead!