I've always loved Wat Dan Hor 滑蛋河 (flat rice noodles with egg gravy) since I was a kid. The gravy is absolutely delish. Normal stirfried hor fun (flat rice noodles) are good too but it's the addition of the egg gravy, with laces of just-cooked egg clinging to the edges of the sauce, that makes it irresistable to me. It's one of the dishes I miss when I'm away and I'm very pleased to have finally learned to make it for myself.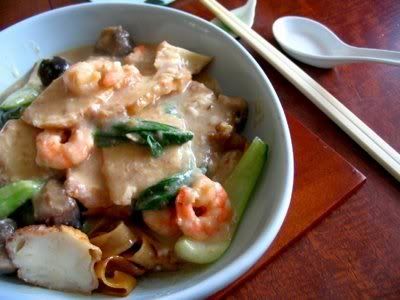 Ingredients (serves 2):
450g rice noodles
1 tbsp soy sauce
1 tbsp oil
Gravy:
8 medium-sized prawns (shelled and deveined)
100g pork or chicken slices (marinate with chinese wine, soy sauce, bit of cornstarch, salt and pepper and bit of sesame oil)
Fishcake, sliced
Bak choy or choy sum, cut into sections of stalks/stems and leaves
1 tbsp crushed garlic
1 tbsp cornflour mixed with 2 tbsp water
450ml chicken/beef/fish stock
2 eggs
Pepper and salt to taste
Oil for cooking
Directions:
1. Loosen the fresh rice noodles. If using dried noodles, soak in water following packet instructions until soft. Drain.
2. Heat oil in frying pan/wok at high heat add in rice noodles, then add soya sauce and stir fry briskly (Note: You can allow noodles to burn a little at the edges for that smoky taste). Set aside on plates in a warm oven.
3. Add more oil into wok and fry the chicken/pork and prawns till just cooked. Set aside.
4. Add in garlic and fry until fragrant. Add in vegetables. Pour in stock and bring to the boil. Add in the cornflour mixture. Bring gravy back to simmer to thicken the sauce.
5. Add in the cooked prawns and fishcakes. Season to taste.
6. Turn the heat right down and crack in the 2 eggs, stir a few times and then turn the heat off, allowing the residual heat to cook the eggs
7. Ladle over the cooked hor fun and enjoy with pickled green chillies.
So the only thing that was missing was pickled green chillies :( I love green chillies, sliced thinly, drizzled with some soy sauce. I need to buy some the next time I see any available and then put them in a jar of white vinegar. Unfortunately they don't last that long and turn soft and slightly icky when soaked for too long so it's not like I can keep them for ages in the fridge. Maybe a couple of weeks. Ah well, we shall see.
I have not had fish cake for so long and it was worth spending the money to buy them at Hanson's. I'll do it with beef next time , perhaps, and over rice. Andy likes the Chicken Tama Rice at Wagamama's which is very similar except on rice and without the egg. He seems to prefer the gravy on rice rather than hor fun. I told him that he likes mui fan but he's never had it in Singapore before.