Andy is not too keen on avocado but likes hard boiled eggs, and I would rather not have hard boiled eggs but like avocado. So that sort of determined which bento we had.
His: Sweet pepers foccacia bread with cherry tomatoes on the side. A dish of melon. Hard boiled egg with niro faces on a bed of salad leaves. Small container of olive oil and balsamic vinegar on the side.
The egg on the right looks rather sheepish, maybe because I messed up the yolk a bit?
Mine: Rosemary foccacia bread. Sauce container with olive oil and vinegar with cherry tomatoes. Parma ham roses and a fan of avocado leaves.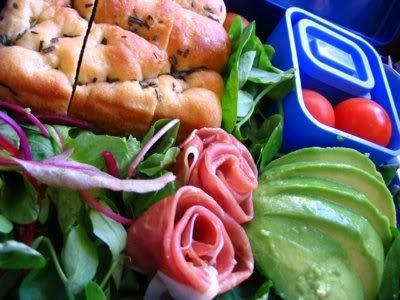 Cheese and onion foccacia bread with salad on the side - chicken and sweetcorn mayo on top of mixed leaves and beetroot salad.