Monday's lunch was just for Andy. I had leftover burger buns from the barbeque but no ham or filling, so I fried an egg instead, since I always have eggs in the fridge. So it was an egg and chive omelette in wholemeal bun, strawberries and cherry tomatoes. Some bits of Caerphilly cheese are tucked in at the side, separated by salad leaves.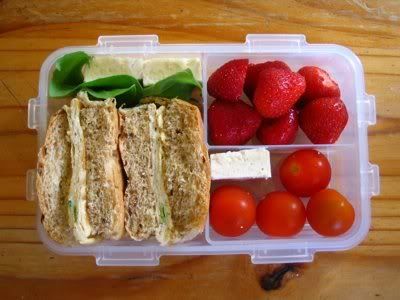 It looked a bit on the 'red' side. I should have put in melon instead (light green) to balance out the colours but then the strawberries needed eating :p
I made wontons last night and had leftover pork and prawn filling. So I made little patties for lunch today.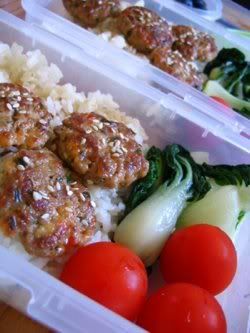 Pan fried pork and prawn cakes on top of Japanese rice, stir fried bok choy on the side with cherry tomatoes and a side container of fruit. Mine with blueberries and Andy's with melon and strawberries.

It was the first time I used these lunch containers to pack rice (usually sandwiches). There was too much space actually, I didn't pack the food tightly enough, so everything moved all over by the time I got into work and opened my lunch. I should have packed the rice more tightly to one side, pile on the meat patties and then put in dividers on the side for veg as well as fruit (without using a separate container).