We had gammon roast for dinner on Sunday. Leftover gammon ended up in wraps with sliced peppers. Leftover potatoes were transformed into potato salad, with some edamame. Sliced peaches and raspberries on the side.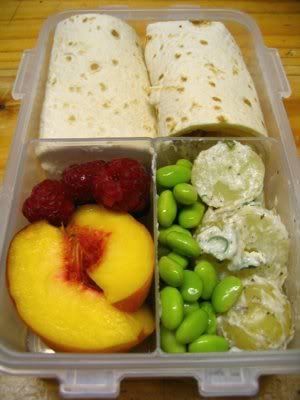 Tuesday's lunch is teriyaki meatballs with stir fried mange tout and yellow peppers. Rice with furikake topping and side container of melon.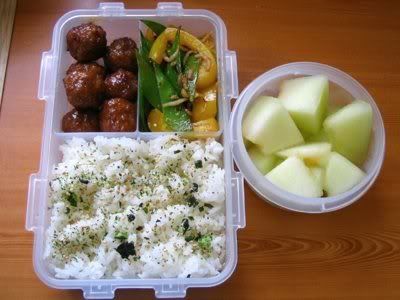 More gammon on Wednesday. Gammon and cucumber sandwiches on multiseeded bread. Slices of Double Gloucester cheese on the side and half a peach.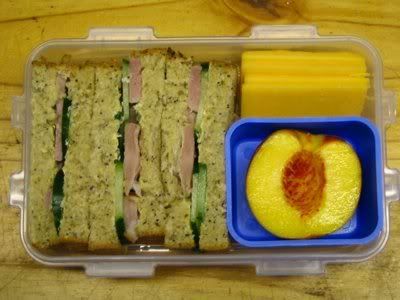 No bento yesterday. Today's lunch is stir fried noodles with spring onions and sesame seeds topping. Stir fried red peppers and bok choy on the side. The small container holds some soy sauce mixture to 'revive' the noodles later. Not shown is a small container of melon. I was going to pop in a prawn and fish cake but it needed to go into the oven and I realised that only after I've put banana bread in to bake (at a different temperature) and I had to leave the house as soon as the baking was done. So no prawn and fishcake for me :( But the amount is alright actually, it might have been too much food otherwise.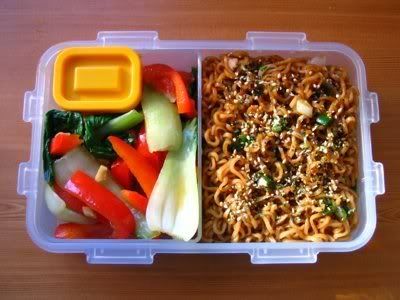 Andy and I are going to be away for a week and I was looking to clear the fridge as much as possible before we go. So I prepared a snack box for the train ride later this afternoon. I didn't want to use one of my usual containers (that has to be brought back) so I went for a plastic container that I kept from a Chinese takeaway. It's actually quite sturdy and can be reused but oh well.
Contents: Slices of leftover Double Gloucester cheese and cucumber batons wrapped in the one slice of prosciutto that I've got left.
No bentos for the week ahead. I'm planning to hit some shops in London (Japan Centre, Oriental City, Chinatown) for bento and food supplies, wish me luck!