Andy and I are going to Yun's for dinner tonight, in celebration of our two-month wedding anniversary. I was in Beijing during the one-month date so it's to make up for that. We're not going to do this every month! We've promised Helen (the lady-boss at Yun's) to give her some photos from our wedding for her wall so I'll need to note which ones when I collect the photos later.
Dinner last night was a bit of a rush because I was anxious to have the meal finished by 7pm (book club at 7.30pm). So on hindsight I probably shouldn't have chosen something that requires as much work as sushi but I thought since I was staying at home for the day... Anyway, it turned out well, although my mum did call me in the middle of food preparation, as usual. (The last time she called me I ended up holding a half-peeled potato in my hand for 30 minutes, heh.) It was the first time I made tamagoyaki (Japanese rolled egg-omelette) and I'm glad it turned out rather well. The taste was exactly what I remember from the restaurants/sushi bars, even if it didn't look quite so perfect (done with a normal round pan instead of sqaure tamagoyaki pan).
I made a load of sushi for dinner, with the intention of having the leftovers for lunch. Even so, I still ended up with both of us stuffed for dinner, two big lunch boxes and one small container of sushi left in the fridge!
Loaded table, with sushi platters, miso soup, a bowl of broccoli and carrots (initially for tempura veg but I ran out of time so just tossed them in sesame oil and soy sauce) and green tea.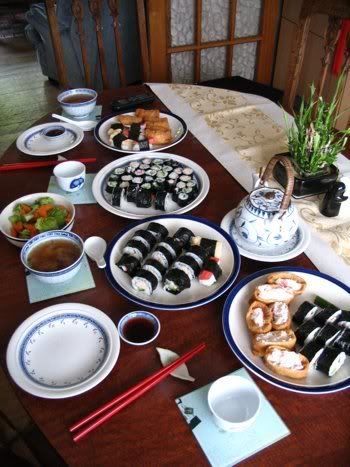 Futomaki and inari sushi (topped with crab mayo). I was really pleased when I found inari pouches at Hanson's.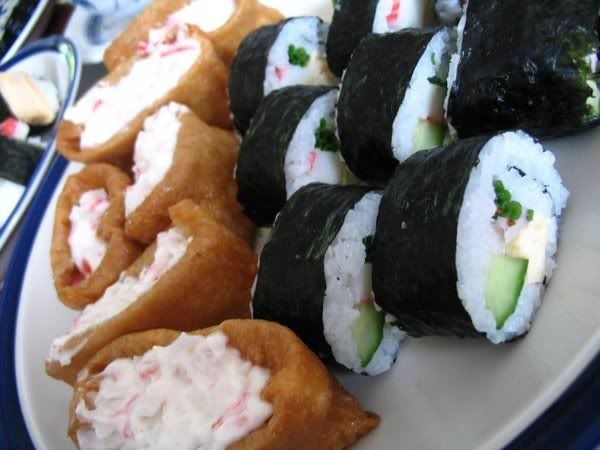 More futomaki and maki. Andy loves cucumber maki.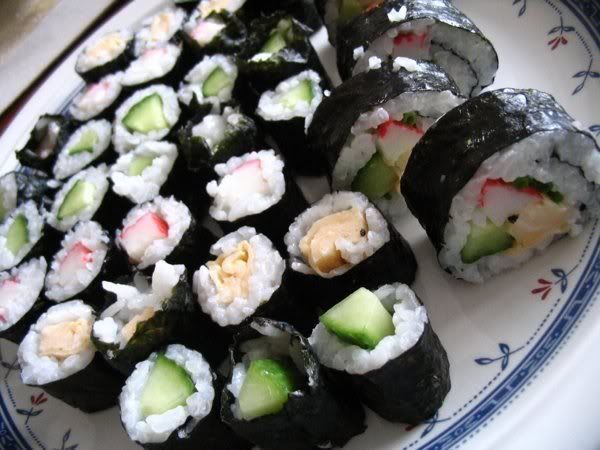 Inari sushi and nigiri sushi, topped with tamagoyaki and crabsticks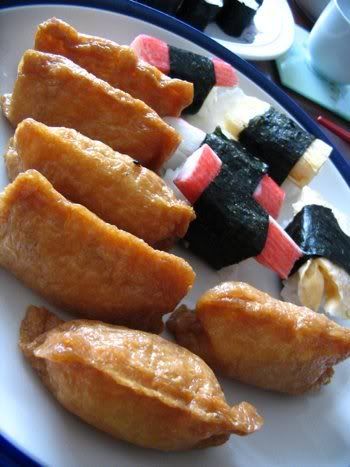 Leftovers after dinner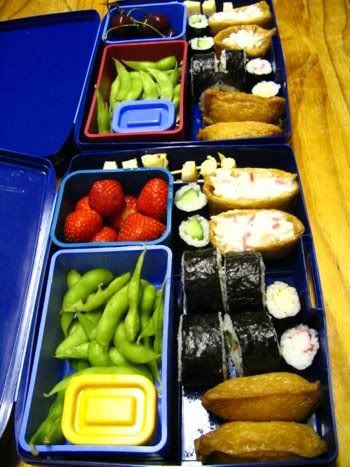 Various types of futomaki, maki and inari sushi across the bottom. Edamame in the smaller section along with soy sauce in small container. Some strawberries on the side in small compartment. Along the right hand side where cutlery usually goes, I've put in extra tamagoyaki on skewers. Mine is the same except with cherries.
This is the third time that I've made sushi and they have turned out better and better. Practice makes perfect :)