Bento!

I've been inspired to get onto the bento-wagon (more on bento from Wiki and bentobox). I like the philosophy behind it: healthy lunches in good portions, balanced meals, reduce waste through using reusable containers, visually appealing textures and colours for food that feeds the stomach as well as the heart, and the love and thought that goes into preparing every lunch box.
I've been making some in normal plastic containers, incorporating different food groups and colours etc but really wanted a 'proper' bento-style box. I then saw some Laptop Lunches boxes which looked pretty good with useful sealed containers and utensils and so on. So I ordered two for Andy and myself. Packed them last night (as I usually do with our normal sandwiches, given that Andy leaves the house before I get up) and here's the result: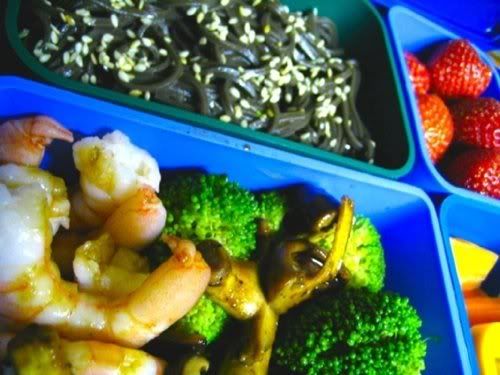 His and Hers bento: cold soba noodles with some sesame seeds, tiger prawns, broccoli and shitake mushrooms sauteed in some teriyaki marinade, blueberries and strawberries, sauce container with soy and ginger dressing for the noodles and some carrots as fillers. Andy's had strawberries only because he doesn't like blueberries, strange man.
Recipe for the dressing:
2 tsp grated ginger
2 tsp minced garlic
3 tbsp light soy sauce
2 tbsp rice vinegar
1 tbsp mirin
1 tbsp olive oil
1 tsp sesame oil
1/2 tsp chilli oil
These Laptop Lunches hold more food than I expected. I was full before I got onto the fruit, which I'm saving for later in the afternoon. Maybe not a problem for him but a bit much for me! Now I'm really wanting to get a proper Japanese bento box. They are significantly smaller and I think they will fit into my work bag a bit better as well. I've been looking at online stores for them and kicking myself for not buying them when I was at Japantown in San Francisco (so cheap). I even picked up one but wasn't sure I had enough luggage space. *Kick kick* Now I wish I am back in Singapore to go to Daiso...